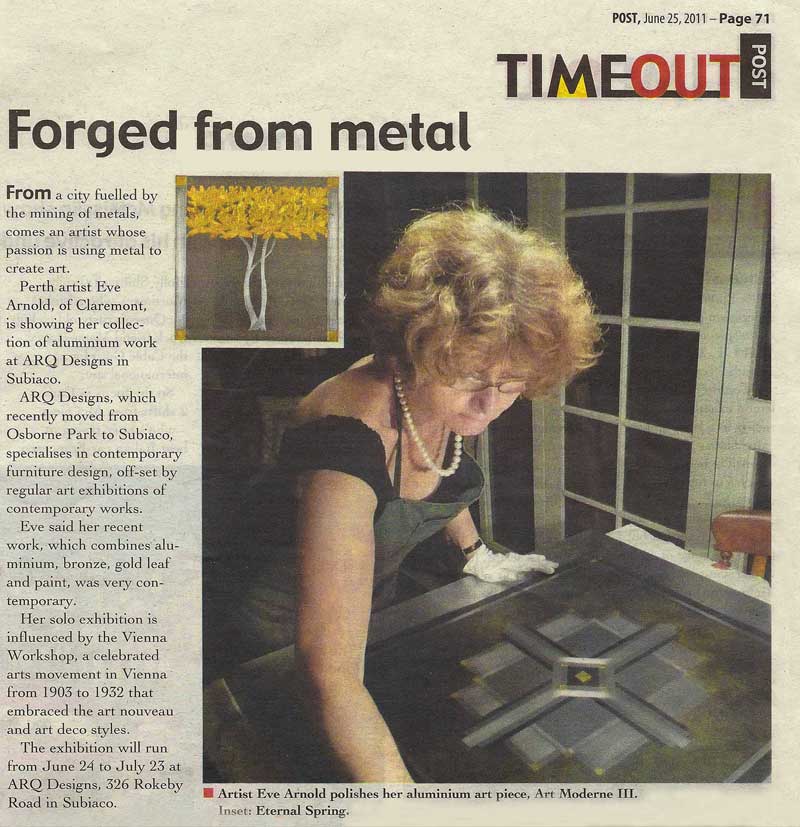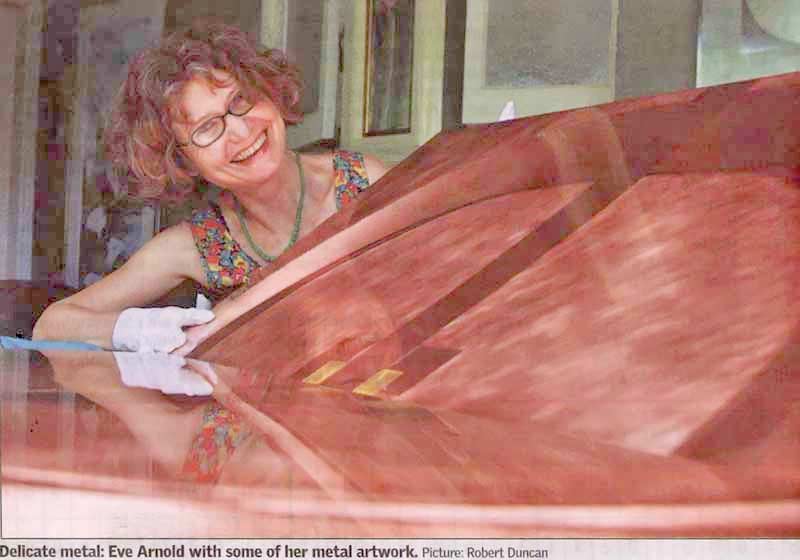 ---
"Arnold's artwork is positively breathtaking; her beautiful sense of composition, her confident, unwavering hand and unique choice of medium augment her significance in the world of fine art." Agora Gallery , New York , 2008
"Eve's artworks remind me of the best Haiku poetry, combining form and content in a meaningful, yet compact way. They are like meditations; they bring one closer to nature. The subject matter is expressed with a minimum of lines, painting a mental image in the viewer's mind. As in Haiku, many themes include nature, feelings, or experiences." Gary Bartz, New York , 2007
"Stunning to behold, the artwork of Eve Arnold is an enchanting vision that celebrates a harmony between human achievements and the natural world. With distinct elegance, Arnold 's works explore the disparate worlds of nature and industry by creating flowing, organic shapes with metals, such as aluminum, copper and gold. She creates nuances in tone and texture by etching and distressing the metal and juxtaposing it with uniform areas, before adding the finishing touches of 24-carat gold. The results are awe-inspiring, as delicate stems of flowers rise and petals bloom forth, ocean waves curl toward the shoreline, and amorphous shapes allude to seeds and rebirth." Art-Mine , New York , 2008
---
Beauty The Great Connector
by Kiriaki Orfanos, 15 October 2009 ( Kiriaki Orfanos is a writer who lives and works in Sydney/Australia)


Eve Arnold's oeuvre is proof that beauty is the great connector, creating an exquisite aestheticism that transcends time and place. Her European consciousness is informed by her Australian milieu, successfully uniting a venerable culture with an ancient one upon which has been grafted the new.
She does this by presenting primal materials in a decidedly contemporary way, taking archaic forms and revealing how they exist outside time. She does this too, by working directly by hand, meticulously, painstakingly, miraculously creating lyrical curves and lines, which are intolerant of the inept move.
But what makes her work really compelling is how she has turned light into the shaman of her art, enticing it to tell her story,
Eve etches and distresses aluminium sheeting, playing with its texture and surface purely for the opportunity to create a playground for light to leap and gambol over and to steal into the more intimate recesses of her artistic vision.
If light is her playmate, it is also her servant, doing her bidding as the artificer of incandescence, illuminating her central truth. At first glance, her work has a beguiling simplicity, which camouflages the complexity lurking beneath. Like a still lake on a moonless night it appears unmarked and serene. All that changes when light interweaves its undulating path across the work – a glamorous effulgence - gently revealing its voluptuous sensuality, its forbidden places or its tranquil geometry.
Light glides over the subtle paths and furrows she has created in the metal, but even as it unveils the Palladian symmetry of her designs, it deliberately and seductively both misdirects the eye and engages it in a gentle waltz to its gold or ochre heart
If light is her servant, it is also her master-conjurer creating the bewitching shimmer that both reveals her and conceals her, as all good magic – and superlative art - does. But its most important quality is quite simply that Eve's work is beautiful.
---
Eve Transforms Metal Sheets Into Things Of Beauty
by Ron Banks, published in The West Australian Newspaper 19.3.2008


Creating art works on aluminium and copper surfaces is painstaking and challenging, which is probably why few artists attempt to work in this medium.

One of the State's most renowned exponents of this art form is veteran artist Brian McKay, whose large-scale works on aluminium dominate the foyer of the Central Park building in the city.

McKay now has an enthusiastic follower in Claremont artist Eve Arnold, whose works on aluminium and copper will be shown at an art gallery in Chelsea Village, New York in May as part of an exhibition called Out from Down Under and Beyond.

Arnold, who was a water-colourist before discovering the delights of aluminium and copper, says she owes her success in this new medium to the example of Brian McKay's own work and his willingness to tutor her in its finer points.

"I met Brian at a workshop he was giving and he volunteered to show me how to work with the metal sheets," says Arnold . "Whenever I had a problem I would ring him up and he would patiently explain how to solve it. He was very generous with his advice.

"After working for so long in water colours it was a fascinating and challenging experience to transform industrial sheets of metal into two-dimensional works of aesthetic beauty. The contrast in tones is achieved by offsetting blank areas against etched and distressed monochromatic surfaces that refract the light, creating areas of brilliance or illusory shadow."

Arnold says it is difficult to obtain sheets of metal from industrial suppliers that have no flaws or marks on the surface. "Sometimes the flaws offer possibilities of taking the design in a different direction, but that is one of the pleasures of creativity," she says. "You might have a particular idea in mind, but the surface will suggest another."

Most of Arnold 's imagery on metal is symbolic, in similar fashion toMcKay's fascination with Greek symbols in his Central Park designs.

However, the symbolism is an expression of her ideas about human relationships – the links between people, the misconnections and the attempts to forge ties.

Her works are streamlined and contemporary in design – as much a product of her own ideas as the demands of the medium. Many are accented by the addition of 24-carat gold leaf, a practice borrowed from her water colours where the leaf leant the works the suggestion of ancient icons.

When not busy abrading and scouring her metal sheets with delicate energy Arnold is the administrator of the Perth Jazz Society, where she regularly comes in contact with international musicians.

A few years ago New York saxophonist Gary Bartz was so impressed with her water colours that he promised that he would use them in the design for the sleeve of his CD being planned called The Feminine Side – an album honouring the songs of famous female musicians.

Since that offer Arnold has sent him a suite of designs based on her latest collection of works on copper and aluminium, and is waiting for the album to be completed.

"We're hoping that Gary will be able to launch the album in Perth ," she says.

Arnold was born in Germany and grew up in Dusseldorf , where she began her career in banking.

Arriving in Australia in 1973, she worked in banking in Sydney , before being transferred to Perth in 1975, where she continues to live.

She managed art galleries around Perth for many years after leaving banking, and as a water colour artist has exhibited in Perth , Melbourne , Yallingup , Italy and her native Germany . Her works won several awards in Italy between 2002 and 2004.

The invitation to exhibit in New York came last year when Arnold was visiting friends. She walked into the Agora Gallery in Chelsea and discovered they were planning an exhibition of works by artists from Australia and New Zealand .

On returning home she sent them slides of her works on metal, and was accepted into the exhibition which opens on May 15.

"Now I'm planning to be at the opening," says Arnold . "It should be an exciting time. But I hope I will also be able to exhibit my new works in Perth ."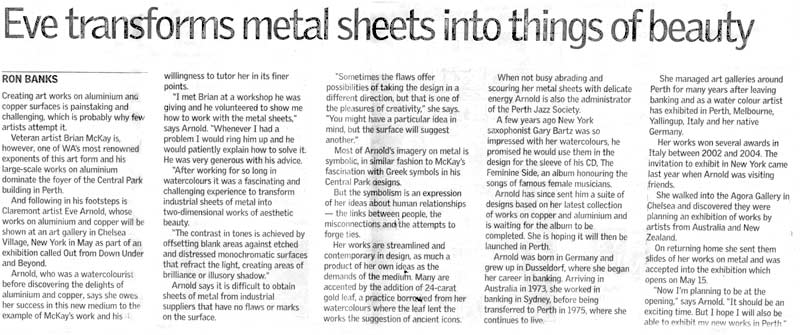 ---
AGORA GALLERY PRESS RELEASE
Agora Gallery, Chelsea, New York – May 2008


Eve Arnold's remarkable work with metals features powerful, minimalist-inspired geometric configurations of symbolic significance, as well as the swirling, delicate lines of flora that display distinct elegance and are truly enchanting.

Crafting her images with large sheets of aluminum or copper, Arnold creates variations in tone and texture by etching and distressing the metal in contrast to smooth, uniform areas before adding finishing elements of 24-carat gold leaf. The synergy between light and metal seemingly lifts the design from the planar surface in a dazzling display of dimensionality. Arnold 's artwork is truly breathtaking; her beautiful sense of composition, her confident, unwavering hand and unique choice of medium augments her significance in the world of fine art.

Born in Germany , Arnold relocated to Australia to explore the vibrant arts culture of Sydney and Perth . She studied Fine Art at Claremont School of Art and Western Australian School of Art, Design and Media. Her works have been shown at exhibitions throughout Australia , Germany , and Italy , and she has recently acquired representation in New York . Arnold lives and works in Perth , Western Australia .
---
Scoop Insite Magazine, Winter 2008
---
FORBIDDEN FRUIT - an exhibition of paintings by Eve Arnold
Kidogo Arthouse - Fremantle March 28 – April 3, 2003
The Lord God commanded the man, saying, Of every tree of the garden thou mayest freely eat: But of the tree of the knowledge of good and evil, thou shalt not eat of it: for in the day that thou eatest thereof thou shalt surely die.
The tree of life also grew in the garden, but its fruit was not forbidden.

Life-consciousness was in existence, but knowledge about life, particularly that it ends in death, was not.

This knowledge of death requires the ability to think forwards and backwards, to remember and to predict.

Such cognizance of time exists only in the world of human experience, and the world of Adam and Eve before the apple, was not human.
Adam was given two roles in the garden, one was to dress it and keep it, the other was to name all the beasts and the birds. He was created to give to the garden human relevance and potentiality. Without his involvement, the plants would not grow, and the animals would not have names. In other words, the garden represents an innocent, pre-selfconscious state of being. With Adam's presence, it contains all the elements of human consciousness, but these elements have no pathway to conception or deliverance into human reality.
Eve's role was to provide this pathway. It was she who first ate the fruit. Adam may have tended the plants, but Eve knew the significance of the fruit, and she had the courage to eat it. In her role as 'mother', she provided a 'womb' in which the elements of her preconscious garden could combine and develop, and finally gain 'delivery' into full human consciousness. Rather than being the first to disobey divine law, Eve was the first to exercise human choice and free will, even though she had been warned that this would be a dangerous venture. She gave birth to human consciousness, including the knowledge of her own death. As her name suggests, she is truly the 'giver of life'.
Once expelled from the garden, human consciousness, or the human ego, becomes separated from the soul. Hence, Adam and Eve became aware of their own bodies – their nakedness. Nevertheless, the distant memory of soul remains. The soul is left behind, but is retained in the unconscious levels of human experience forever. Human consciousness is constrained and tormented by this memory, a condition later to be described as the Cartesian split between spirit and matter. There is a universal and a persistent yearning to transcend this split, but knowledge of its existence is enough to ensure that such a transcendence, or redemption, is forever 'forbidden'. Innocence is only conceivable within a state of experience.
Eve Arnold's paintings capture something of the sense of loss and longing that is expressed in the Eden story. But, through their sensuousness and elegance, they also affirm the beauty of the human life achieved through the loss. They capture a sense of the possibility of retrieving the state of innocence enjoyed by Adam and Eve before eating the apple, and combining it with physical reality.
As a symbol of past innocence and of a human future, Eve has chosen the traditional forbidden fruit, the apple. In Eve's Apple, a triptych, (each panel 17x15), she depicts the apple firstly, as floating in its own environment, not defined by a table or a bowl containing other apples. In its rich, enamel-like colourings, and its elegant isolation, it takes on timelessness and the quality of a religious icon. Despite its realistic presentation, it defies definition. It entices, but remains unattainable, as in a dream, forever out of reach. Once bitten, however, its perfection is taken away as it is subjected to human intervention. After this, as the third image shows, its seeds are scattered in order to deliver 'fallen', but fully human consciousness into existence.
Awakening, mixed media (76x20) shows the apple in the process of deliverance through the female body. The image has an Art Nouveau feeling with its elegantly curling, twisting and inter-twining lines. These lines represent the internal organs of the woman. Their elegance suggests the beauty of the birth process, while the twisting, together with a slight splash of red, conveys the pain and suffering. A careful following of the lines will also reveal the snake, and bring to mind his role in tempting Eve to eat the apple.
Another stage of the emergence into the 'real' world is presented in a mixed media diptych entitled By the Witness Tree, (76x20 each panel). This piece shows male and female torsos side by side, as Adam and Eve discover their humanness. It is a celebration of the awareness of the human body. Eve is shown with the apple, but Adam has a fig. Both fruits are beautifully painted, and placed so as to indicate the bringing forth of the human race. The tree, which began the entire process, frames the bodies, as they enter their new life. Nature goes forward with them, as a reminder that the natural world plays a large part in their new knowledge and experiences.
A smaller piece, entitled Fecund Figs, reinforces this idea. The fig symbolises physical passion, but the fig tree is associated with the original tree of knowledge. The fig itself, therefore, can refer to the possibility of bringing pre-lapsarian knowledge into the world of physical reality.
Serenity (76x20) presents Eve at peace with her new existence after the turmoil of her transformation. The scallop shell is a symbol of pilgrimage and travel. In this work, it represents the birth of human consciousness achieved by Eve after her life-changing journey. Moon Reflections (33.5x23) continues this theme of human consciousness. Its darker tones and its more sinuous lines, together with its emphasis on the breasts, convey a sense of strength and physical passion.
Many of Eve Arnold's figures combine a sense of dreaming or other-worldliness with an equal sense of the physical. Leaving the heads and faces unrepresented gives a feeling of displacement. The bodies, however, are very much present. There is a reference here to the Renaissance and Romantic ideal of experiencing traces of ideal beauty through the real.
Human experience is again the subject of A Love Story, a triptych (each panel 19x20). Following the theme of forbidden fruit, this work shows a series of pears, rich in colour and texture. Like the apple, the pear exists firstly in its own space, and its own context, only this time the title Lonely without you, explains its real significance. In the second panel, It takes two, the pear finds a companion, with whom it entwines its existence. The two lie down together and the colours and the sensuous lines suggest a joyous relationship. This panel is called Amoureux, and it is as if a state of innocence and wholeness has been recaptured just for an instant by means of a transcendent experience. Such experience is evoked also in Connected, where two poppies are so entwined, that the connection suggests something beyond the actual flowers.
Transcendent experience is also alluded to in other subtle ways. One of these is seen in Memories of Summer (12.15). In this piece, a bowl of cherries suggests the sharing of the fruits of summer. Parts of the work, however, extends outside the frame, as if to suggest that sharing is an activity that takes one outside the normal boundaries of physical existence.
Eve Arnold's work is delicate and detailed, but with an underlying strength. There is also a subtle playfulness, as she makes gentle puns on her own name, and explores personal experiences. The images are realistic, but have little to do with direct reporting. Rather, the meticulously detailed representation of flowers and fruits lifts them out of the ordinary into the symbolic levels of significance. Two Aspects of Iris, for example is a study of an iris from two points of view, but these two points of view represent not just front and back, but also the public and private aspects of life. The iris, in traditional symbolism, suggests light and hope for the future. Here it shows that light flowing both outwards and inwards. It is not surprising that Eve has recently won the Falfalla D'oro XX Concourse Nationale 2002 award in Italy. Her works amply repay a careful and thorough analysis of their deeper meanings.
Jan Altmann, Ph.D.
---